About me summary in english
Welcome to me Irene and bodycoach – your guide to health, balance and harmony!

I am a passionate sexual educator specialized in the taoist sexual practice and pelvic floor release.
I have over 25 years of exploration and travel and learning in different countries, which has led to a unique combination of knowledge, experience and tools. I combine modern research with wisdom from different eastern traditions that look to the whole.So wellness and alternative therapies have since the 90´s been one of my greatest interests and lerned many diffrent things on my way. I am certified qigong instructor since 1998 and has trained at Tao Garden in Thailand and spent a lot of time with Taoist teachers in different countries. I am trained in various bodywork, massage techniques, pelvic floor release, chi nei tsang, yoga, tantra, meditation, coaching, voice dilogue and more. I am also an apprentice on the shamanic "Sweet medicine sundance path", a spiritual and esoteric wisdom path.My own exploration has always increased my curiosity and strengthened my will to continue to develop and explore myself, others, and life in general. I have practiced different disciplines in depth for extended periods. I have learned that every person is unique, the importance of self acceptance, and that all techniques are only tools towards a common goal: to become ourselves and find our natural place inside and on the planet.

"I have great respect for the body's capacity to heal itself and see myself as a helper to allow that space to manifest. Let the body become your source for power, pleasure and rejuvenation as it was meant to be!"

"In a relaxed body and a still mind you can connect to the source from where all is well."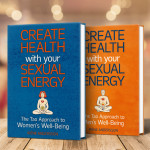 All my insights and exercises are summed up in my two books about male and female sexuality and taoism.
Now also in english:
Create Health with Your Sexual Energy: The Tao Approach to Women´s Well-Being &
Create Health with Your Sexual Energy: The Tao Approach to Men´s Well-Being
Pelvic Floor release treatment
A treatment for dissolving tension in the pelvic floor muscles and other blockages in the area. When the energy is blocked in the root, either by physical tension, emotional burden, past trauma, patterns or habits since long time, it inhibits the energy flow in the whole life. You also receive direct feedback on whether your muscles are too tight or too weak as well as specific exercise suggestions. The treatment will increase the connection to your pelvic floor and increase the  awareness, sensitivity and grounding in yourself. Both for men and women!
Some testimonials:
- When I left from there the first time, I felt a very strong feeling that I actually have a sex! A strong physical experience
- Wonderful, warm and undramatic. The feeling that this is the most natural in the world, which made me very relaxed, happy and hopeful. I am normal and all is fine
- I gained more insight into how my vagina works, how it looks, what the different "stuff "are. That there are three muscles and how I can train them
Qigong
Qigong has always been one of my biggest passions and has always provided me with satisfaction, development and rejuvenation. Beside the taoist sexual practice I also teach various styles like Wuji Gong, Xing Shen Zhuang, Tian Ti and Tao Yoga. My main teachers where Andrew Fretwell, Mantak Chia, David "Shen" Verdesi and Wang Ting Jun, Lujan Matus.
Treatments & sessions
I offer different kinds of bodywork like deep tissue oil massage, and chi nei tsang – a powerful Chinese massage directly on the organs in the abdomen, and face zone therapy. I also give voice dialogue sessions, a fantastic tool for self-discovery and development.
I am an experienced course leader and lecturer and give workshops and treatments mainly in Stockholm, but also in Gothenburg and Uppsala. I don´t mind to come and teach in other areas of sweden as well as abroad. In march 2019 I have a pelvic floor 2-day workshop in Budapest. Last winter I was a co-teacher on the same subject in a one month Tantra therapist tarining in Thailand Koh Pangan.
Contact
If any of this interests you, don't hesitate to contact me at: info@bodycoach.nu (This e-mail address is protected from spam-bots and you must have Javascript installed on your computer to see it) or tel:+46-(0)739-483943

Links
www.qigonginstitutet.se
www.universal-tao.com
www.cntschool.com
www.yuantzecentre.com
www.asakullberg.com
www.davidverdesi.com
www.theartoflove.nu