Female ejaculation & the G-spot! Deborah Sundahl
Datum: 26 sep 2018
Tid: 18.30 – 20.30
Plats: Gröna rummet, Konstepidemin
Konstepidemins väg 6, Göteborg
Kostnad: 300:- (30 Euro)
Learn about female ejaculation's ancient history, current scientific studies, where the G-spot is located, how to have a G-spot orgasm, and how to get this wonderful feminine fountain™ flowing!  Open to both men and women, Deborah Sundahl's Power Point lecture with pictures, movie clip and Q&A will tell you all you need to know about female ejaculation and the G-spot. The G-spot is the female prostate. All women have one, as do all men. Therefore, all women have the ability to ejaculate! Attend this class, and learn how to: Let Go and Let it Flow!
Deborah Sundahl is the foremost pioneer and expert on female ejaculation and the G-spot. She is the author of Female Ejaculation and the G-spot. Her 30 years of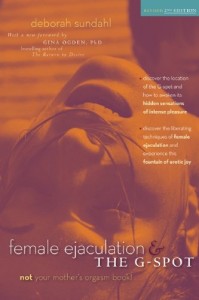 groundbreaking contributions to this field include a line of videos titled the Female Ejaculation Sex Education Series (Isis Media, Inc.), which Deborah produced and hosts. She lectures and gives workshops in North America and Europe, and has taught thousands of men and women how to integrate the G-spot and female ejaculation into their erotic body and sexual life. She continues to be a spokesperson for female sexuality and an advocate for sex education.
Missa inte detta!
Vill verkligen rekommendera Deborah Sundahl, som kommer till Sverige/Stockholm 28-30 september. Göteborg 26/9. Deborah är författare till: Female ejaculation & the G-spot. Hon har varit en stor inspirationskälla för mig och kommer att ha en kväll för både män och kvinnor och sedan en två dagars workshop för kvinnor. Då får du utforska din G-zon (prostatan) och lära dig hur du gör för att ejakulera. Hennes workshop är väldigt klargörande och inspirerande. För mig ledde den till en helt ny medvetenhet och kontakt med min prostata! Föreläsningen är på engelska/The lesson will be in english. Lokal meddelas senare.
Kom och mingla redan från kl 18!
Vänligen tag med jämna pengar i cash!
Info: Katarina Ödman
mobil: 0730-777817
mail: katarina.ayurveda@gmail.com
www.yogatreats.se
Info:  Irene Andersson
mobil: 0739-483943
E-mail: irene@bodycoach.nu
www.bodycoach.nu
Läs mer och anmäl dig gärna på FB!